Thank you to our Sponsors
Symphony Level: $500 and up
Crystal and William Hansen
David and Gaynelle Mize
Concerto Level: $250 to $499
Bill Starnes
Ella Wilcox
Doug and Kim Gosnell
Ed and Judy Cort
The Keller Trust
Overture Level: $100-249
Murdock Family Trust
Marcia Bailey
Sharon Brunner
James and Vivian Cheney
Priscilla Fry
Our Director / Conductor
The Valley Youth Orchestra is pleased to have Ms. Debra TenNapel as our Director/Conductor. Ms. TenNapel has served admirably in this position since July of 2011.
Valley Youth Orchestra, Western Slope, Colorado
The Valley Youth Orchestra, which began in January 1999 (see brief listing of conductors below), provides a rich orchestral experience for young string musicians from Western Colorado's Uncompahgre Valley (Montrose, Ouray, and Delta Counties), North Fork of Delta County (Paonia, Hotchkiss and Crawford) and the Grand Valley (Grand Junction, Fruita and Clifton).
Mission

The Valley Youth Orchestra is a board-run, 501(c)3 non-profit organization. The mission is to provide young string musicians the opportunity to experience the joys and challenges of orchestral rehearsals and performances in a nurturing environment. In addition, we strive to provide small groupings for community nursing and assisted living homes as well as performing at local schools through our Strings in School program and at various service organization gatherings.

The Valley Youth Orchestra is actually three string orchestras in one.
The Concertino I Orchestra is comprised of beginner students
The Philharmonic II Orchestra is comprised of intermediate students
The Symphonic III Chamber Orchestra is comprised of the more advanced students.
All three groupings are supported by youth players from the more advanced groups and adult mentors from the Valley Symphony Orchestra. The Valley Youth Orchestra meets and performs primarily on the Western Slope of Colorado, but has members coming from all over the Western Slope. Currently we have members from four counties - namely, Ouray, Mesa, Montrose and Delta Counties. We hope YOU will consider joining us!
Registration Fee - $260 per Concert Season
Payment options:
One payment of $250 paid at the first rehearsal for the Season provides a $10 discount for you
One payment of $260 paid after the first rehearsal but before the Fall concert
Three payments of $90 in Sept, Dec, and March
Work out a different payment schedule with the Orchestra Manager
For families with more than one VYO student, the Season fee is reduced to $200 or $70 per Trimester for each new family member.

The Registration/Tuition/Fee includes tuition for rehearsals and concerts, and helps cover miscellaneous and budgeted expenses such as salaries for Director/Conductor and Orchestra Manager, music licenses, music copies, some instrument repairs, etc. Other funds are raised through grants, donations, and our yearly Dinner Concert and Silent Auction.
Please make sure you have registered first, then you can Pay tuition with the button below OR in person at auditions or at a rehearsal.
Note: On the next screen after clicking the Pay Tuition button, you can enter the amount of tuition you have chosen to pay based on the options listed above.
Auditions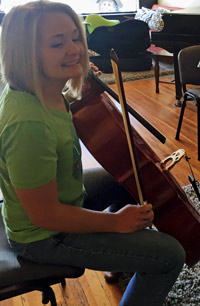 Auditions are Saturday morning, August 26, 2017. More details are available by clicking the Rehearsal Schedule button above.

What to prepare for your kid-friendly audition:
All levels: play approximately 45 seconds of a solo of your choice (NOTE: Please bring a copy of your solo for Ms TenNapel)
All levels: play some sight reading music at your level provided by Ms. TenNapel.
Concertino I: play a one octave scale in the key of A, D or G beginning with the corresponding open string.
Philharmonic II: play a 2 octave scale (preferably moving out of first position).
Symphonic Chamber III: play a 3 octave scale.
See our printable flier
If you have questions about auditions, please contact the Orchestra Manager, Dan Lamar
Sponsorship/Donations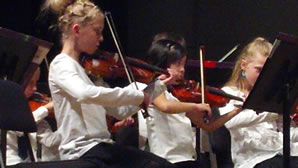 Donate online with a credit card or Paypal
OR print our donation form and mail with your donation to:
Valley Youth Orchestra
P.O. Box 274
Delta, CO 81416-0274
All contributions and sponsorships are tax-exempt.
A Little History
VYO Directors/Conductors - Then and Now
January 1999 to June 2000 - Tyme Mientka (from Paonia then Grand Junction)
July 2000 to June 2005 - Janice Walker (from Cedaredge)
July 2005 to June 2011 - Prof. Kenneth Todd (from Gunnison)
July 2011 to present - Debra TenNapel (from Cedaredge and now Montrose)