Purchase Your Tickets to the 2017/2018 Concert Season
Season Tickets
Season packages for the 2018-19 Season will go on sale beginning Sunday, April 22, 2018
In Stores
Each Concert
Adults $17, Seniors $16, Youth $5
Devinny Jewelers, Clubb's in Delta, Gazebo Florist and Boutique in Cedaredge, Tiffany's in Montrose or Montrose Pavilion (249-7015)
Tickets at the door
Each Concert
Adults $20, Seniors $20 Youth $5
Welcome to the Valley Symphony Association, Montrose and Delta, Colorado
Our Mission
The Valley Symphony Association exists to awaken the possibility of passion, inspiration, and joy in our community through great music. We bring together some of the best volunteer musicians from the North Fork and Uncompahgre Valleys as an outlet for the discovery and performance of the great composers, past and present. We build community and enrich lives through the shared enjoyment of music.
We invite our friends and neighbors to join us in the celebration of music by participating in one of our six yearly concerts. Styles range from classical orchestral to upbeat pop, from purely instrumental to a combination of orchestra and chorus. Families gather together for our free Pops in the Park fall concerts. The Christmas season is never complete without the popular Christmas by Candlelight celebration for all ages. The orchestra and chorus perform four more times throughout the concert season in a wide variety of styles for every interest level. Even those not familiar with classical music love attending the Valley Symphony concerts.
Experience and share the greatest music in the world with us by getting involved today:
Our Conductor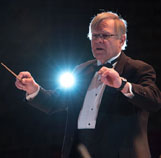 Orchestra conductor Michael Kern has been with the Valley Symphony Orchestra since 1993. He is a graduate of Butler University in Indianapolis with a Bachelor of Music in Music Education and a Master of Music in Music Composition. While attending Butler, he studied jazz string bass with David Baker, nationally known jazz educator and head of the School of Jazz at Indiana University. Kern played string bass and electric bass guitar professionally for many years in all genres of music from polka bands to jazz ensembles to symphony orchestras. He has performed with Marvin Gaye, Freddie Hubbard, Wes Montgomery, Doc Severinson, and Buddy DeFranco.
During the summer of 2001, Kern attended the prestigious International Workshop of Conductors in Kromeriz, Czech Republic. The Workshop was formed by Dr. Harry Hurwitz of the University of Toronto and Artistic Director Maestro Kirk Trevor in order to offer musicians opportunities to gain experience rehearsing and conducting professional full orchestras. The Workshop partnered with the Bohuslav Martinu Philharmonic of Zlin, Czech Republic. The Workshop featured an intensive two weeks preparing six major orchestral works for performance with the orchestra.
Kern is currently the regular bassist with Take Five, a Western Slope jazz quintet and plays in other small ensembles as the opportunity arises. He is retired from teaching instrumental and vocal music in public schools.
Meet our New Chorus Director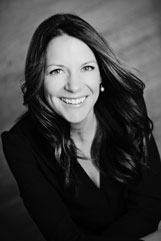 We welcome Allyson Connally as our new Valley Symphony Chorus Director.
Music is the language of the spirit. It opens the secret of life bringing peace, abolishing strife. -Kahlil Gibran
Countless times I have walked into a performance with life's stresses weighing me down or walked into a rehearsal feeling tired and not necessarily wanting to be there, only to leave these events feeling uplifted and ready to move forward with my challenges with a little more hope and readiness. No matter the medium, genre, location, or musician, music has the power to lift the human mind and spirit out of the dark spaces we can encounter. It has the power of unification and is a medium throughout the world of communication that can reach beyond even words.
It is my goal as a musician to share this vital gift and to possibly create a little more peace and authenticity, even in a small corner of the earth.
I received my B.A. in Vocal Performance/Conducting from Mesa State College (now Colorado Mesa University) under Dr. Monte Atkinson. Rather than jumping the NYC bandwagon, I chose to stay in Grand Junction within my network of connections and was able to conduct and perform in a variety of genres and venues across the Western States. Some of my favorite involvements include Beethoven's 9th Symphony, Carmina Burana, Mahler's 2nd Symphony, and Rachmaninoff Vespers. Mozart's Die Zauberflote and The Mikado were performance highlights. My conducting led me to various church organizations, Celtic choirs, Mens' and Womens' Barbershop, and childrens' choir. I currently direct the music at the United Church of the San Juans in Ridgway.
I count it one of life's great joys to live close to the San Juan Mountains where I thrive on cycling, hiking, backpacking, running, swimming, or simply taking in the world-class air.